INFORMATION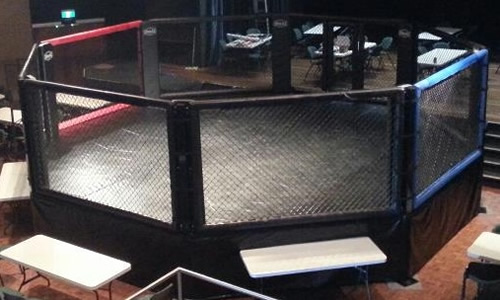 Available for hire for Fight Nights, Corporate Events, Commercials, Movies
All of the Storm Cages are a true competition 8 sided raised cages
We have three size options available
The 22 Foot Cage

It measures 22 foot from post to post & 21 foot from flat side to flat side
(6.7 metres wide x 3 metres tall)
The 26 Foot Cage

It measures 26 foot from post to post & 25 foot from flat side to flat side
(8 metres wide x 3 metres tall)

The 32 Foot Cage

It measures 32 foot from post to post & 30 foot from flat side to flat side (without the catwalk)
(9.7 metres wide x 3 metres tall)
(11 metres wide with the catwalk)
The chain link wire in the middle of the panels are exactly that TRUE chain link wire, with 1mm of plastic coating over the wire, it is the real deal.
The floors of all cages are raised floors they sit 1 metre off the ground for easy viewing.
The padding for the cage floors are 4cm of jigsaw/roll out mats, which sit underneath the vinyl/canvas floor, under the foam mats lie 5cm of marine plywood, which is supported by not only the 8 side poles, but also a the centre module, leading to many cross sections of steel from centre to all outer posts & further support beams going from the base of the floor to the ground for extra support. Most cages only have the sides & a small centre support.
All this support makes for the fight surface to be 'fast'.
Many of the cages in Australia are only small 18 foot cages, which we feel is too small for competition, it also looks super small inside a venue, especially when you have 3 people inside it & it is crowded, ie 2 x Fighters, 1 Referee.

Something to note, generally speaking the smaller cages can favour the grappler, as they can get hold of their opponent easier as they can easily close the distance & their opponent does not have the room to move or avoid the take down, remembering that likewise the really big cages can favour the striker, as they can avoid the grappler & engage & disengage at will.
We feel the 26 foot sized cage is the perfect size for both the grappler & the striker, as it enables for an even & fair fighting arena, naturally the fighting arena plays only one aspect of competition, but it is something to consider.
Cosmetically speaking, if you have a large arena you are better to go with the 32 foot cage, as it will fill more space & the event will look more packed.

The cages have blank/black floors, side skirts & post padding, so you can leave it as is or supply your own event stickers for it & make it your own branded cage for the night.
The 26 Foot cage also features one Blue panel & one Red panel for easy identification of corners.
On all cages only one panel has a gate, to enable better viewing & less obstructions.
All cages can be supplied with or without entrance stairs.
All cages can also be supplied with one or two filming crows nest/towers for over the top videos/photos.
The cages are set up & pulled down by our own professional team & we also have options available to supply officials like referees, judges, time keeper, cage girls, emcee, dj, photographer, videographer, etc.